(Zenigata Heiji Torimono-Hikae ・Yurei Daimyo)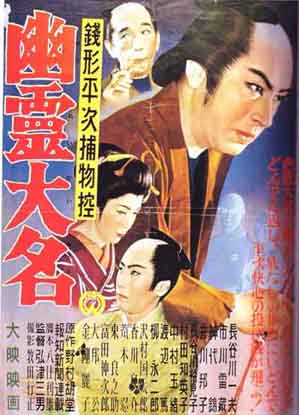 Zenigata Heiji : Ghost Lord
Released 9/29/54(Wed) 90minutes Daiei Kyoto/B&W Standard
| | |
| --- | --- |
| Planning | Kyuichi Tsuji  |
| Director | Mitsuo Hirotsu |
| Original Book | Kodo Nomura |
| Screenplay | Toshio Yasumi |
| Photography | Yukimasa Makita |
| Art Director | Toshizo Uesato  |
| Sound recording | Sachio Unabara |
| Music | Urato Watanabe  |
| Assistant Director | Toshio Ichikawa  |
| Cast | Kanamori Mannosuke/Sennosuke, Kazuo Hasegawa(Zenigata Heiji), Yumiko Hasegawa(Yuri), Tamayo Nakamura(Tayori), Eijiro Yanagi(Yoda Izuminokami), Chieko Murata(Oen), Kunitaro Sawamura(Shinzaburo Sasano) |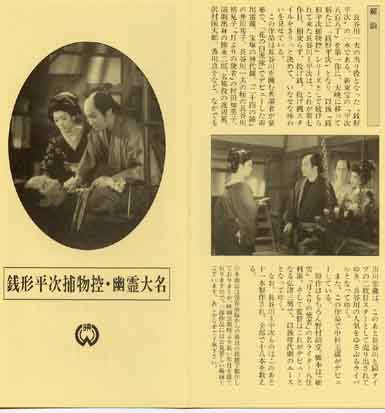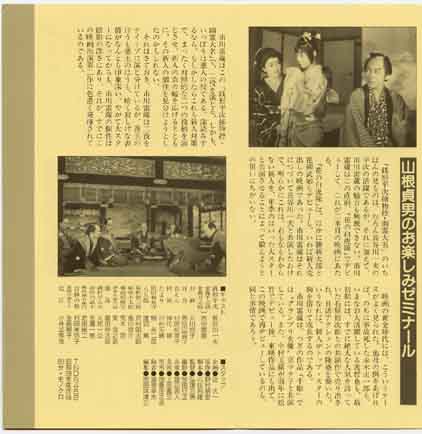 The movie to which Ichikawa plays an active part in two roles.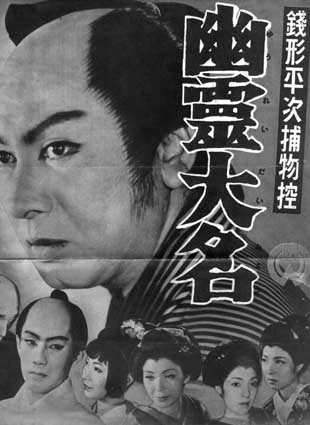 Within the 38000 stones of Lord Yorikata Kanamori 's mansion, he is seemingly the ringleader of a crossing murder or kidnapping of women. People in Kanamori's country, are troubled with Kanamori' s misgovernment.
Zenigata Heiji knows that people are planning a direct appeal against the Shogun .He begins his search secretly. It turns out that Lord Kanamori's eyes are bad and he stays in a sickbed. Soon it is clear that his twins' younger brother is just like him becomes him and make diceisions with a bad priest.
Heiji also knows about the bad twin younger brother's cruel things. They are also afraid of all the hings made clear by Heiji, so they kidnap Heiji's wife, Osizu.