(Itako Dejima Binan Kempo)
The Young Swordsman
Released 12/22/54(Wed) 89minutes Daiei Kyoto B&W Standard
| | |
| --- | --- |
| Planning | Kyuichi Tsuji |
| Director | Kimiyoshi Yasuda |
| Original Book | Tsuneo Tomita |
| Screenplay | Ryuichiro Yagi |
| Photography | Yasukazu Takemura |
| Art Director | Yoshinobu Nishioka |
| Lighting | Yukio Kaihara |
| Sound recording | Sachio Unabara |
| Music | Eiichi Yamada |
| Assistant Director | Yoshihiko Ogitani |
| Cast | Ryushiro Kitahara,Michiko Saga(Oyuki), Mitsuko Mito(Okon), Yataro Kurokawa(Hirate Miki), Kodayu Ichikawa(Kadokawa Yoshizo) |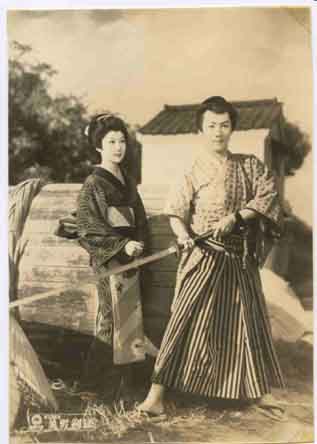 Raizo co-starred for the first time with Michiko Saga.

Ryusiro Kitahara is a young swordsman who is coming to Edo from Chikugo Yanagawa to revenge an elder brother.
On a certain day, at the coffee shop of Yanagihara-Tsutsumi he meets Miki Hirate and challenges him to a match using their true swords. However, Hirate knows that Ryusiro has a courageous sprit and wonderful sword technique, so he stops fighting. As for Yuki and him, relations between them become good by the favor of this game. However, when the grandfather of Yuki hears his name, he is forbidden to better relations, because he knows that the missing father of Yuki was his elder brother's enemy.
By the way, Hirate excommunicates Mr. Chiba's sword school . Now, he will live at his sweetheart Kon's house. Kon is a geisha girl in Yanagibashi, and Hirate drinks alcohol everyday.
Hirate becomes the bodyguard of Sukegoro and will fight with his elder brother's enemy whose name is Kozo. Kozo is Yuki's true father, and she wants to meet him.
Finally, Hirate and Kozo fight, and Rysiro, Yuki and Kon, want to try meeting them .