(Onikiri Wakasama)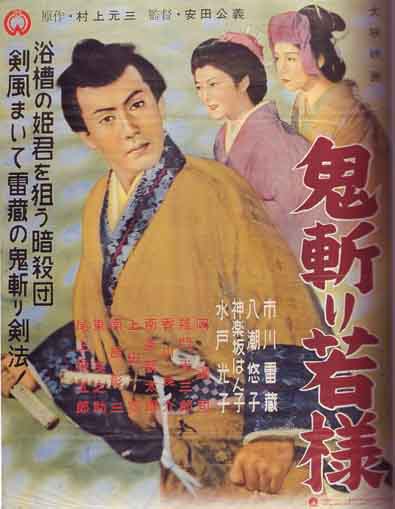 The Young Lord
Released 4/20/55(Wed) 83minutes Daiei Kyoto B&W Standard
| | |
| --- | --- |
| Producer | Shin Sakai |
| Planning | Shozaburo Asai |
| Director | Kimiyoshi Yasuda |
| Original Book | Genzo Murakami |
| Screenplay | Minoru Inuzuka |
| Photography | Hiroshi Imai |
| Art Director | Yoshinobu Nishioka |
| Lighting | Gengon Nakaoka |
| Sound recording | Masahiro Okumura |
| Music | Gento Uehara |
| Cast | Choshichiro Matsudaira, Yuko Yashio(Yuri no Tsubone), Hanko Kagurazaka(Sakon Hanai), Mitsuko Mito(Oren), Jyoji Oka, Ryosuke Kagawa, Shintaro Nanjyo |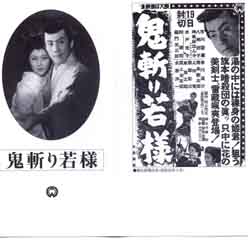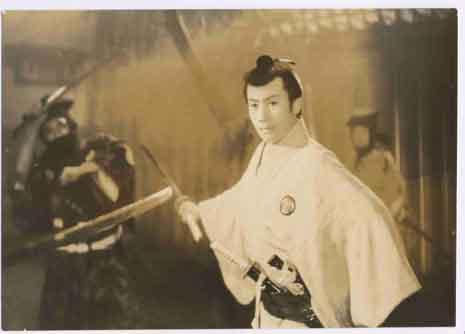 A Shogun's Cousin, Choshichiro Matsudaira is living willfully with his guards Miyake and Tamura. Also pickpocket Oren and her henchmen are members of his group.
On the other side, The Hatamoto Group whose name is Tombo-Gumi (Dragon Fly) make everything their way with the back up of Tairo. However, Oren picks Atomi's wallet. He is a boss of Tombo-Gumi. She finds a secret letter, which orders Choshichiro's old fiancé Yuri's murder. Then Choshichiro goes to Hakone because Yuri is staying Hakone. He wants to save her.
He joins a group of Kabuki players known as Hanai for his own safety. Oren is anxious for Choshichiro and cannot settle down. However, finally Yuri is rescued by Chishichiro and the Tombo-Gumi is Crushed.